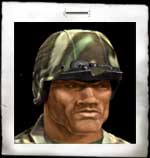 Name: 1LT Rydel Wilson
MOS: Heavy Gunner (Automatic Weapons)
Age: 31 Ht: 6'5" Wt: 270 lbs.
Hair: Black (shaved) Eyes: Deep Brown
Birthplace: Bronx, NY

Distinguishing Marks: Scar on eyebrow, very muscular
Quote: "These targets are down for the count. Bring on some more."

Background:
Born in the Bronx, NY, Rydel is easily the toughest member of the Delta Force team. Rydel grew up with his mother and sisters in a one-bedroom apartment located above a boxing gym. It was there that he spent most of his time learning from local boxers and trainers. By the age of eighteen, Rydel was 6'4" and 290 pounds of pure muscle. He often could not find anyone who would agree to spar with him. At age nineteen, Rydel became a Golden Gloves Heavyweight Contender. Even though Rydel had a future as a pro fighter, he felt that he could make more of a contribution to society by joining the military.
Rydel started his military career in the enlisted ranks, earning his E-6 (Staff Sergeant) stripes before the age of 28. As a non-commissioned officer he found no equal physically or with the rifle. Rydel was a premier rifleman and took easily to the difficulties involved with firing squad automatic weapons. He became so good, in fact, that he was asked to instruct at the Army Infantry Center in Fort Benning, Georgia. He did this commendably for two years but longed to return to duty with a field unit. He got his chance after he was prompted to apply to OCS (Officer's Candidate School). After his commission, Rydel was transferred to active duty with 1st Battalion, 75th Ranger Regiment in Hunter Army Airfield, Georgia. It was here that his professional dedication and esprit de corps shone. He trained his men as rigorously as he drove himself. It was this tenacity and single-minded drive that earned him his nickname, "Pitbull".
His squad entered nearly every Regimental and Divisional competition, earning top honors in many of them. It came as no surprise when Rydel was approached by Delta Force recruiters. He quickly jumped at the chance to join the elite task force. Due to his innate leadership skills he was the natural choice to become squad leader of the team. Rydel is still hard pressed to find anyone willing to spar with him.