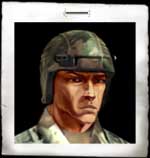 Name: SGT Daniel Lonetree
Specialty: Sniper
Age: 25 Ht: 6'0" Wt: 180 lbs.
Hair: Black Eyes: Hazel
Birthplace: Tuba City, Arizona

Distinguishing Marks: Always sunburned on cheeks and nose, Navajo Tribal Tattoo

Quote: "You don't have to get out of my way. My 50 cal will connect with the target whether you're standing there or not."

Background:
Having been abandoned by his mother and father as a child, Lonetree quickly learned to fend for himself. Although his grandparents were there to raise him, he grew distant from most other people. Larger kids often avoided starting fights with him due to the intense look he would get on his face. During his teen years he became fascinated with his grandfather, who was a Navajo code-talker during WWII. It became obvious that he wanted to follow in those footsteps and join the military straight out of high school.
He enlisted in the Army for Military Occupational Specialty (MOS) Infantry, 11B. During weapons qualification training, he displayed a natural ability for handling all types of weapons. His particular expertise was shown during rifle qualification, where he scored a perfect 100% hit on all targets at all ranges. After graduating Basic, Advanced Individual and Airborne Training at Ft. Benning, Georgia, Lonetree was assigned to Ft Bragg, NC with the 82nd Airborne Division. Here he honed his field skills as an Airborne Infantryman, then quickly worked his way up from an infantry platoon to joining the elite, Long Range Reconnaissance Company. Rising to the rank of Sergeant, he became keenly interested in joining Special Forces. He applied and was accepted for the Special Forces Qualification Course at the John F. Kennedy Special Warfare Center, Ft. Bragg. Here he was selected for training as a Special Forces Weapons Sergeant, MOS of 18B.
His dedication and finely tuned field skills led him to being selected as Distinguished Honor Graduate of his course. He was assigned to a Special Forces Operational Detachment - Alpha (SFODA) in the 10th Special Forces Group, Ft Carson, CO. Due to his natural skills and expert marksmanship, he was selected for training at the Special Operations Target Interdiction Course (SOTIC), the sniper school for SF. He distinguished himself during Stabilization Force (SFOR) in Bosnia-Herzegovina conducting counter-sniper missions. Because of this, Delta Force recruiters took notice of his abilities and approached him about joining their ranks.
Lonetree is determined and ready for almost any challenge. This professional sniper doesn't like to make small talk during missions. There is no more serious job than his. Even hard core soldiers are impressed at how stoic this sniper can be while under heavy fire.