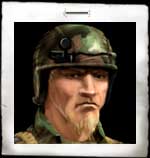 Name: SGT Cole Harris
MOS: Demolitions/Grenadier
Age: 32 Ht: 5'10" Wt: 195 lbs.
Hair: Blonde, balding Eyes: Blue-gray
Birthplace: Tyler, Texas

Distinguishing Marks: Old 3rd degree burns on arms and chest, missing left index finger, tattoo of fiery devil on right arm.
Quote: "If he had just a few of these charges, Lincoln could have ended the Revolutionary War three years earlier."
Background:
With a southern drawl and a blue-collar worker mentality, this stocky soldier is one of the best field demolition experts in Special Forces. Before entering the military, Harris worked for a leading Texan fertilizer exporter. Experiments in his off-time led to his intense interest in explosives.
Harris began his military career undergoing OSUT (One-Station Unit Training) at Fort Leonardwood, Missouri. There he exhibited a natural talent for indirect fire weapons, easily earning his grenadier expert badge after a rigorous battery of tests. He was promoted to Private First Class after only 6 weeks of basic training. After Phase One was complete, he moved on to the Advanced Training phase where he learned the fundamentals of combat engineering with emphasis on demolitions. Harris finished at the top of the class, catching the eye of Delta Force recruiters. After accepting their offer to undergo special operations training, he was immediately awarded the rank of Corporal and was ordered to Fort Benning for Airborne School.
After receiving his jump wings and sergeant's stripes, Gas Can received orders to undergo Advanced Demolitions Training (ADT) at the John F. Kennedy Special Warfare Center in Fort Bragg, North Carolina. Here he expanded upon the fundamentals he had learned but with a focus on small unit tactics. Gas Can finished in the top 3 percentile of his class and moved on to regular duty with Delta Force.
Some soldiers have a hard time dealing with Harris' excessively belligerent attitude, but no one ever disputes him on facts about explosives. With one look at a building, Harris can tell you twenty different ways of bringing it down. If he says he can have a specialized satchel pack armed and placed in fifteen minutes, you better get ready to set your clock at 14:59.